We moved to our current premises in 1997. The Practice area covers Devizes and outlying villages up to a 7 mile radius from the town.
All consulting and treatment rooms are on the ground floor. Reception has wheelchair access and a Loop System for the hearing impaired. There is a disabled toilet, baby changing facilities and also a wheelchair available for those patients who might need it.
To make an appointment:
Telephone: 01380 711879
Email: sjs.ooh@nhs.net
Facebook: @stjamessurgery
Out of hours: NHS 111
Address
St James Surgery
Gains Lane
Devizes
Wiltshire SN10 1QU
Opening hours
Monday 8:00 -18.30
Tuesday 8:00 -18:30
Wednesday 8:00 -18:30
Thursday 8:00 -18:30
Friday 8:00 -18:30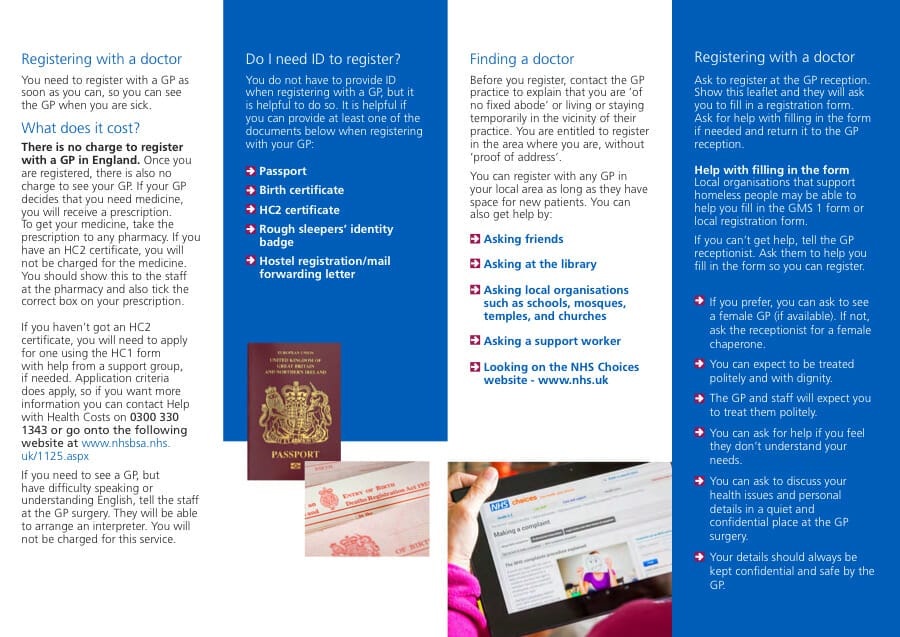 If you wish to register with St James Surgery, you will be asked to complete a registration form.   These are available at the surgery or you can download the forms to complete at home (please see the link below, in pdf format).
When you pre-register could you please also read the section on Medical Questionnaires below.
Please bring the form(s) with you when you visit the surgery for the first time as you will be asked to sign the form to confirm that the details are correct.  
You must also bring with you some form of photographic identification an ID card, passport, driving licence etc.  For under 16s a birth certificate or red book.
Please note: Every member who is over 16, must attend the surgery when registering for identification purpose.
Registration form
 GMS1 Registration Form
We would appreciate an up-to-date mobile phone number as we now use a system called MJOG which will send you a 'reminder' text message the day before you have an appointment booked.
Existing patients – if you move house you may be asked to bring ID into the surgery for proof of your new address.
Medical questionnaire
We ask all our new patients to fill in a Medical Questionnaire, as it can take a considerable amount of time for us to receive your medical records from your previous surgery. This is available at Reception or you can download it below. You will be asked to complete the questionnaire when you bring in your Registration Form.
New Patient Medical Questionnaire
Dr Anthony Downey
Senior Partner MB CHB - 1989 Leeds
Dr Zoe Oliver
Partner MRCGP (2017) MB ChB BSc - 2008 Birmingham
Dr James Pearson
Partner BmedSci (Hons) BM BS (Hons) - 2009 Nottingham
Dr Amy-Louise Douglas
Partner MB ChB MRCGP – 2007 Cardiff
Dr Joanna Mather
Associate GP MRCGP DRCOG - 2009 Nottingham
Ioan Beddoe
Advanced Nurse Practitioner
Sister Lisa Dickson
Nurse Manager
Sister Jean Orford
Practice Nurse
Sister Catherine Read
Practice Nurse
Sister Stephanie O'Hagan
Practice Nurse
Healthcare assistants
The health care assistants are responsible for the anticoagulant clinic as well as new patient checks, ECGs, smoking cessation, dressings and phlebotomy.
Naomi Brolan
Ingrid Jenkins
Administration
Appointments and general queries are dealt with by the office staff. They adhere to a strict confidentiality protocol, so please give them as much information as you can to enable them to help you quickly and efficiently.
Tracy Harris
Practice Manager
Caroline Cornwell
Finance and Administration
Deborah Scammell
Reception Supervisor
Kerry Lewis
Admin Assistant
Chris Clunie
Data Clerk
Matt Dean
Admin Assistant
Becky Howlett
Admin Assistant
Natalie Jeffery
Admin Assistant
Rachel Topham
Admin Assistant
Sally Petherick
Admin Assistant
Elaine Wood
Data Administrator
Michelle Field
Medical Secretary
The Clinical Commissioning Group employs community nurses who provide skilled nursing care to those patients who are housebound. This includes chronic illness, wound management, palliative and terminal care. They work alongside the surgery team and hospital-based nurses, in order to plan and deliver the care needed.
Health visitors are registered nurses with additional training in preventative care, health promotion and child health for those under the age of five. Health visitors can offer advice, information and support about a range of issues. Health visitors visit at home to talk in private and also run child health clinics and parents and baby groups. Health visitors can be contacted on 01380 732565.
The Health vistors have been based at Devizes Community Hospital since 2011 and hold a clinic at the Devizes Children's Centre (SN10 5AA) on Wednesdays between 9.30 and 11.00 am and on Thursdays between 1.00 and 2.30 pm. Telephone: 0333 3218891
Physiotherapy sessions are no longer held in the surgery. Appointments can be made at Devizes Community Hospital.
Counselling is provided by the IAPT Service.
Katie Briscoe
Emergency Care Practitioner
Georgie Smith
Physician Associate
Victoria Higginson and Stephanie Hawkins are the Care Coordinators working for the Devizes Group of Practices. They work with your own GP Surgery, assisting patients in need who are over 65. Their aim is to promote independence, supporting patients (and their carers) in their own homes to fulfil their daily needs.
The Care Coordinator will contribute to care plans for patients and will be a point of contact for patients, carers and their families. Where necessary, they will signpost and liaise with other agencies including the voluntary sector on your behalf.
There may be occasions when the Care Coordinators request to visit you in your own home. Professional identification is worn by the Care Coordinators at all time, and patients do, of course, have the right to refuse any requests for a home visit.
Mrs Amanda Fruen
She is available on Monday, Tuesday and Thursday. Please refer to the Clinical Pharmacist Leaflet link, below, to see what she does.
FCP service:
First Contact Practitioners offer specialist assessment, diagnosis, and appropriate treatment pathways for a range of musculoskeletal health conditions. FCPs are highly trained physiotherapists based in primary care, we have extensive experience in managing musculoskeletal conditions, including: joint pain, soft tissue injuries, arthritis, spinal related pain, nerve pain and post orthopaedic procedures.
We are able to assess, diagnose, organise appropriate investigations, organise pain relief and refer onto secondary care and other specialist services. This enables patients to have faster access to specialist input, reduce need for GP appointments and more appropriate individualised care.
To access this service please contact reception at your GP surgery, they will assess your suitability for the FCP service and book you an appropriate appointment. Our team is based across the PCN, and appointments are available on the same day of booking.
FCP team:
Alice Chadwick MCSP, Guy Kingston MCSP, Audrey Mayling MCSP, Helen Shanklin MCSP.