We are a small but busy rural Practice operating in Wiltshire, with a proactive involvement in a successful Primary Care Network. We actively participate in shared initiatives such as a Leg Club, Older Persons Team, Physician Associate Programme, First-Contact Physio Team, and an effective Covid Vaccination Program.
With a purpose-built building that has patient parking including two disabled spaces. A lift for access to the upper floor treatment rooms and baby changing facilities are available.
We are an active training practice, hosting a variety of medical students with strong links to universities in the southwest.
Market Lavington Surgery
High Street
Market Lavington Devizes Wiltshire
SN10 4AQ
Opening hours
8am – 6.30pm Monday - Friday
*Please note we are closed each day between 12:30-13:30
To make an appointment:
Registration: Register online
During surgery hours: 01380 812500
Results: 01380 814796 (open between the hours of 10am and 4pm)
General enquiries: 01380 812500
Out of hours: 111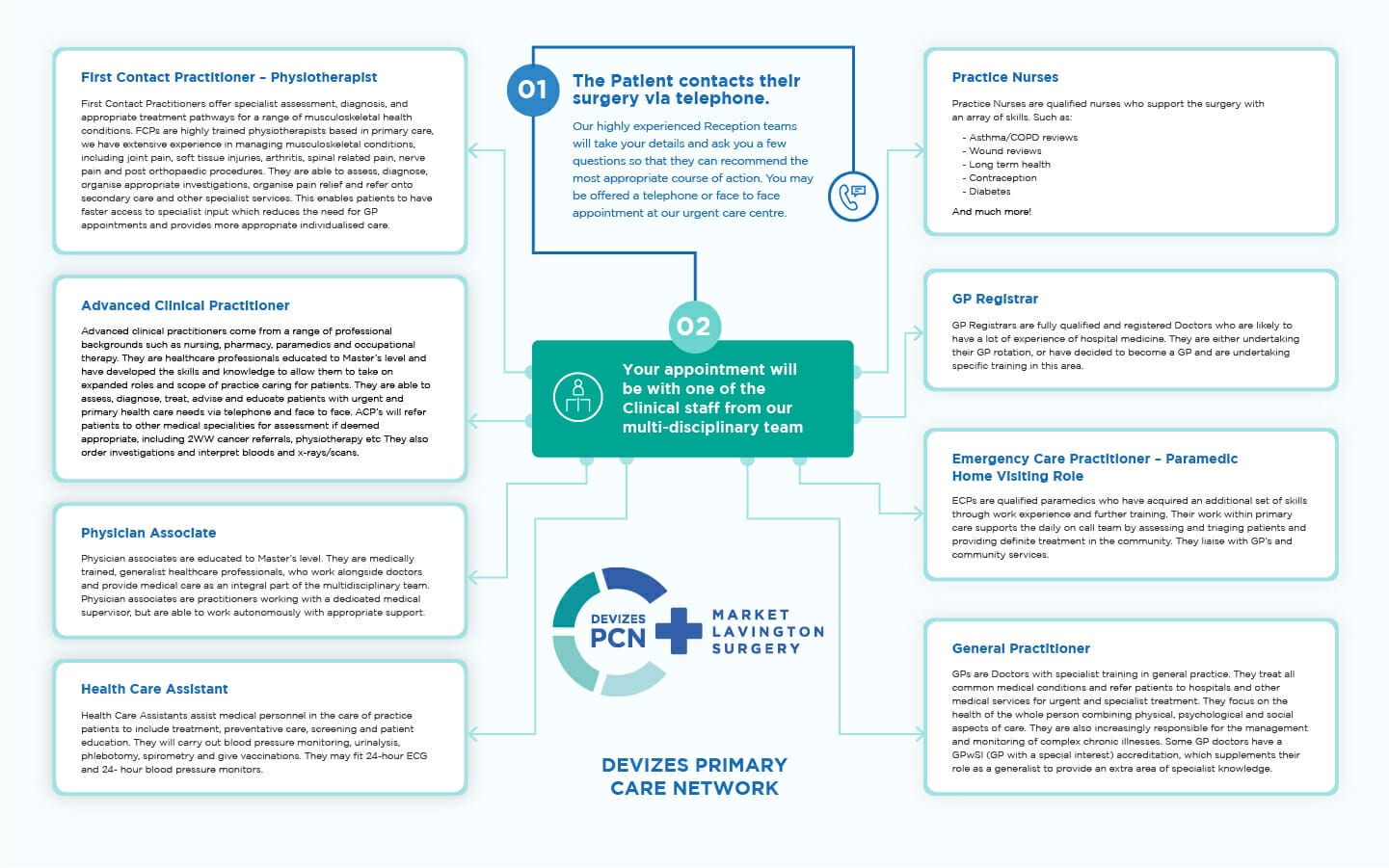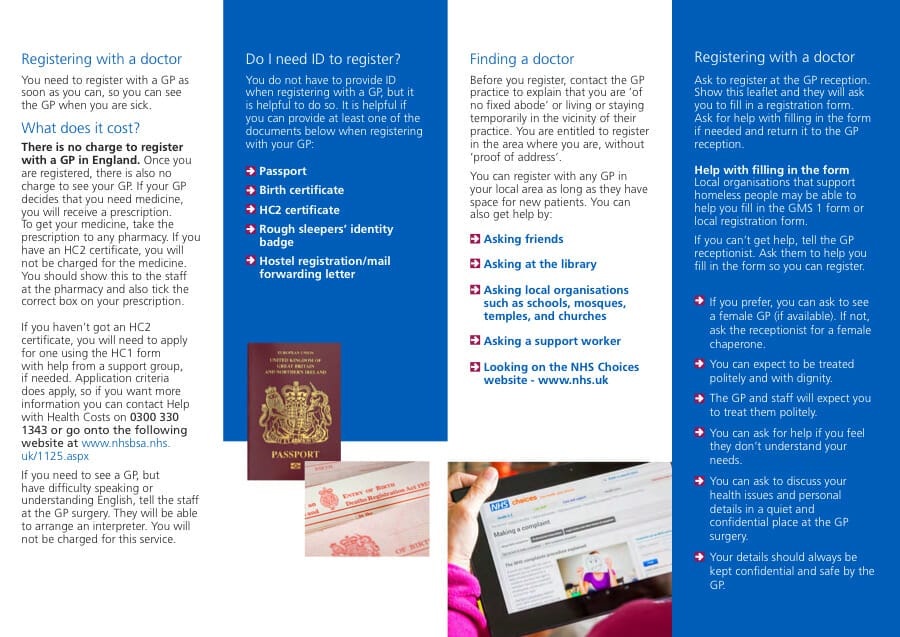 To register as a patient please ask at reception for a form. You will be asked to fill out a registration form and a new patient form,  this is to ensure we have access to your medical details and history immediately and helps us to identify patients with conditions that may need to be seen by a GP or Practice Nurse.
If possible we would like to see a copy of a recent utility bill which verifies your current address. If you don't have this please bring photo ID with you so that we may verify your registration.
Registration Pack for Adults
Registration Pack for Children
Additional
Dr Richard Sandford-Hill
MBBS. MRCGP. F.P.Cert.
Available Tuesday, Wednesday, and Fridays
Dr Anne-Marie Wilcox
BSc. MB ChB. JCPTGP. MRCGP.
Available Mondays, Wednesday am, and Thursdays
Dr Robin Latham
MA. MB ChB MRCGP. PGCE
Available Wednesdays, Thursdays, and Fridays
Dr Anne-Marie Wilcox
Monday
Dr Richard Sandford Hill & Dr Jenny Doyle
Tuesday 
Dr Richard Sandford Hill, Dr Robin Latham and Dr Anne-Marie Wilcox (am)
Wednesday
Dr Anne-Marie Wilcox & Dr Robin Latham
Thursday 
Dr Robin Latham & Dr Jenny Doyle
Friday
Mrs Karen Butcher RN,
Mrs Jane Brumbley RN,
Vikki Jones RGN
Mrs Lorraine Mundy HCA,
Sarah Bates HCA
Kim Crosby Trainee Nurse Associate.
Mr Eric Rutanga
Available Tuesday, Wednesday and Thursday (Please refer to our patient pharmacist leaflet to see what he does)
Mrs Claire Barsby, Practice Manager, Mrs Michele Collier, Administrator Supervisor and Mrs Jenna Zych, Reception Supervisor will be able to help you with any non-medical and administrative matters. We realise that sometimes things may not go as smoothly as we would like. If you think this is happening please contact one of them on the main surgery number; 01380 812500.
Victoria Higginson and Stephanie Hawkins are the Care Coordinators working for the Devizes Group of Practices. They work with your own GP Surgery, assisting patients in need who are over 65. Their aim is to promote independence, supporting patients (and their carers) in their own homes to fulfil their daily needs.
The Care Coordinator will contribute to care plans for patients and will be a point of contact for patients, carers and their families. Where necessary, they will signpost and liaise with other agencies including the voluntary sector on your behalf.
There may be occasions when the Care Coordinators request to visit you in your own home. Professional identification is worn by the Care Coordinators at all time, and patients do, of course, have the right to refuse any requests for a home visit.
You can request support from Vicki or Stephanie at any time by contacting your Surgery in the usual way.
Kate Bartlett is the Living Well Project Worker for Age UK Wiltshire. Kate will be working with individuals to identify community support and with the backing of a network of Age UK volunteers, signpost towards appropriate sources of social support, activities and services.
FCP service:
First Contact Practitioners offer specialist assessment, diagnosis, and appropriate treatment pathways for a range of musculoskeletal health conditions. FCPs are highly trained physiotherapists based in primary care, we have extensive experience in managing musculoskeletal conditions, including: joint pain, soft tissue injuries, arthritis, spinal related pain, nerve pain and post orthopaedic procedures.
We are able to assess, diagnose, organise appropriate investigations, organise pain relief and refer onto secondary care and other specialist services. This enables patients to have faster access to specialist input, reduce need for GP appointments and more appropriate individualised care.
To access this service please contact reception at your GP surgery, they will assess your suitability for the FCP service and book you an appropriate appointment. Our team is based across the PCN, and appointments are available on the same day of booking.
FCP team:
Alice Chadwick MCSP, Guy Kingston MCSP, Audrey Mayling MCSP, Helen Shanklin MCSP.
Here at Market Lavington Surgery we support carers, looking after someone is an important job and can have a huge impact our your own life and wellbeing. We have named carers leads at the Surgery Lorraine Mundy or Karen Fletcher, who offer advice and support. We understand carers may require additional access needs. Please contact us for further information either via our main telephone number 01380 812500 or by email reception2.marketlavington@nhs.net.